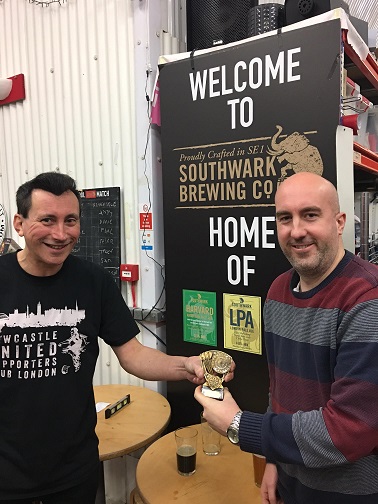 We play once or twice a month usually between November & June in Division One of the APFSCIL Pool League. At other times, NUSCL members play friendlies or in pool cup competitions.

Playing
Each match consists of 6 singles and 3 doubles. The evenings are ultimately for fun, open to all abilities & we try to give everyone attending a game if they want one. Some members come along just to cheer us on. Food is often provided by the home team at 'half time'.
All matches are played on Tuesdays, Wednesdays and Thursdays in pubs in Central London, and our home league matches are played at Cousins in Holloway. We also play in the Clydie Weekes knockout cup, usually from August to October. Home cup matches are at: The Southwark Brewery, 44-46 Druid St London SE1 2EZ. Nearest stations: London Bridge/Tower Hill.
After not winning anything for many years, we have had a very successful decade at pool with 5 league titles since 2012 and 4 cup victories. After back-to-back league titles, in 2018/19 we finished third in the league but still managed to get a trophy by winning the 2019 knockout cup.
If you are interested in playing, or just fancy coming along to support the team, please email our league captain, Martin Clubb at martin_clubb@hotmail.com or Trev Noronha at trev@nufc-london.com, our league vice-captain and knockout cup captain.