Tony Rodgers gives a personal insight to the the formation & early years of NUSCL.
The Newcastle Supporters Club London was formed by Harry Rodden in 1964. Prior to the 1964-65 season, Harry wrote to the Newcastle Supporters Club asking for a list of any members living in London and the southeast, from this list about 12 in all, the 'Newcastle Supporters Club London Branch' as it was then, was founded.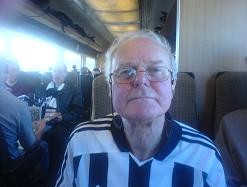 I joined in February 1965 at a match at Leyton Orient. Mick and I were approaching the ground when we came across a group of fans carrying a banner, actually, a bed-sheet between broom handles, with the words N.U.F.S.C. London Branch painted on it. Harry was canvassing for members and we promptly joined.
If I had known then how many thousands of miles I would travel, how many hours I would waste, all the heartaches I would suffer, with only one trophy so far to cheer would I have joined, of course I would, I'm a Geordie I'm mental I'm… you know the rest of the words. I have been on many trips with the club, and I am going to attempt to put on paper some of my memories of some of the earlier trips for the 40th Anniversary bulletin.
The first trip I went on was to a home FA Cup 4th Round game against Sheffield Wednesday. It was an overnight coach trip; pick up point was Midland Road next to St Pancras station. We met in the Euston Tavern for a few pints and then boarded the coach. This was in the days before coaches had toilets, and long before the first scheduled we were singing "does the driver want a wee-wee" eventually the driver was persuaded or forced, to pull up on the hard shoulder of the A1, we all dashed up a grass verge into a ploughed field to relieve ourselves. After risking a severe penalty for stopping on a motorway the driver could be described as not best pleased when we all trooped back on board with our shoes caked in mud.
On one trip, Roger Douglass our present chairman (Ed: in 2008), was given a severe ticking off by Cynthia Collis wife of the then chairman, Bernard Collis, for bringing a bottle of beer onto the coach. He was told that alcohol was strictly forbidden, when it was pointed out later that Cynthia was drinking whisky from a small bottle she had in her handbag we were told it was for medicinal purposes only.
Travel arrangements in the early years were very much hit and miss affairs, unlike the super-efficient trips we are used to these days thanks to Pauline Kelly.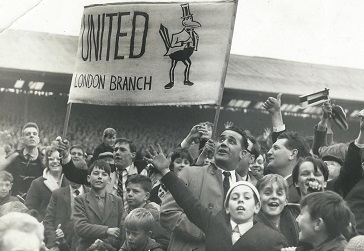 For the opening day of the 1966-67 season, away at Aston Villa, a 46 seater coach had been booked but only 10 supporters turned up. On another occasion for a trip to Coventry, 12 people turned up for a 10 seater minibus, Mick and I solved the problem by volunteering to go by train.
Sometimes the travel arrangements consisted of Harry Rodden and one or two others driving up in their cars. On one such trip to Leicester we stopped for a couple of beers in a working men's club in Leicester after the match, and Harry ever the Good Samaritan, offered a lift to another fan traveling towards London. Not content with dropping him off at the nearest motorway junction he took him miles out of our way, almost home. Consequently, when Mick and I were dropped off at a tube station at Watford we got as far as Uxbridge but were unable to make our connection to Hounslow. We hailed a taxi and told the driver to head towards Heathrow Airport keeping an eye on the meter we got off when our money ran out and walked the last 3 miles home.
Perhaps the worst trip was one to Wolverhampton. Having decided to leave at 6.30 pm rather than straight after the match to allow people to have a drink or something to eat we were about to pull out of the car park when some local yobs put a brick through the rear window of our coach. Jim Rodden and a couple of others who were near the front were quickly out and caught them. We then had to go to the Police Station to give statements, and then to the hospital as one of our party had been cut by flying glass, then to a local garage to have the rest of the glass removed and to fix a tarpaulin sheet across the window. Then we had a long and very cold journey back to London arriving when most of the buses and tubes had stopped. Not every trip in the early days was a fiasco, one well organised one was to Liverpool (we lost) then on for a night at Blackpool Illuminations.
This was the trip when dear old Harry Hornsby, a lovely man and one of our first vice presidents, lost his trademark black & white checked cap, when it blew off on the big dipper. What a man in his mid sixties was doing on the big dipper I do not know. Rumour had it that Harry did not venture out until a new cap had been purchased from Binns store in Newcastle and sent down to London.
Albert 'the map' Heron tried his hand as travel secretary for a while. On his first trip a crowd of us were at Midland Road, a coach arrived but no sign of Albert. Someone said we were to pick up Albert and three others at the 'Busy Bee' at Watford, this posed two problems. Firstly, without Albert we had no idea how many people were supposed to be on the coach, secondly the driver did not know where the 'Busy Bee' was. Albert was a character; he played darts for the Supporters Club and often caught the last train from Euston to Watford, only to wake up in Bletchley or Milton Keynes and, once in Birmingham.
On another occasion he woke up in the early hours still in Euston, having forgotten that only the front half of the train left the station at that time of night. When Newcastle first competed in Europe in 1968-69 Roger Reed the then travel secretary organised a trip to Rotterdam for the match against Feyenoord. We had two new members on the trip; one was Russ Marron but the other one's name escapes me. On the train to Harwich for overnight boat to the Hook of Holland, Cynthia Collis was heard to say "those two new members are very nice young men, one is a Civil Servant the other a Customs Officer, just the type of members the club needs." On the boat trip Russ got so drunk he fell down the stairs, cut his head and had to have medical attention. Later when we met up at Rotterdam station for the train to the stadium they got into an altercation with a tobacco kiosk owner when they staggered into and almost knocked over his display of cigars. When we got to the ground they were refused entry to the stand, told to go and have some black coffee and sober up. They eventually got to their seats mid-way through the second half. We had decided to leave before the end to ensure we did not miss our connection with the boat train, but they refused to leave with us. They must have caught the last train from the stadium and staggered up the stairs onto the platform just as the train was about to pull out. Just the type of members the club needed!
Two incidents on that trip both concerning food are perhaps worth a mention. In a café we ordered ham & eggs for breakfast when it was served not only were there several slices of ham but three fried eggs on each plate. Harry Hornsby said "one egg will be enough for me" Bill Hinton said "I will have the others" and scooped them off Harry's plate. He then wolfed down five eggs and a couple of extra slices of ham that Harry could not manage. Later in a restaurant we enjoyed steak, chips and salad. When we finished Harry said "of course you realise it was horse meat". Gasps all round, and he added "I recognised the taste; we used to eat it during the war".
These days all the trips run by the supporters club are by train, but as you have seen that was not the case in the early years.
The first time we went to a match by train was in the 1967-68 season – a home 3rd round FA cup tie against Carlisle, Newcastle lost 1 nil. I think about 30 fans traveled and everybody agreed it was a much better way to travel than by coach.
Harry Rodden approached British Rail about regular trips but BR were not interested. However one of our members a Major G. Ainsworth would not take no for an answer, his persistence paid off and he arranged to take a BR official from Kings Cross to lunch to state our case. Over lunch Major Ainsworth did his best to convince the British Rail official that they had nothing to fear, but he was hesitant, BR were wary of giving discounted fares to football supporters.
The Major then said "you will have no problems with the Newcastle Supporters, after all, I travel with them regularly with my daughter" this seemed to do the trick, and a deal was struck.
The agreement was unique. All our members had to do was turn up on Saturday morning at Kings Cross booking office show their membership card and ask for a Newcastle Supporters Club day return to Newcastle – no pre-booking – no minimum numbers – and the price was £3.00 and it was a day return, we could come back on any train that left Newcastle before midnight. These arrangements continued for about four years then we had to fall in line with other football supporters clubs and pre-book through group travel, minimum of ten people travelling.
The fare remained £3 for a few more years, the person in charge of group travel John Anderson, was not a football fan himself, but his family came from Wallsend and he always looked after us, he would say at the start of each season I have managed to keep the fare the same, but do not tell other supporters what you are paying, the option of returning on the overnight train also remained.
It is perhaps worth mentioning the journey time in those days, 4½ to 5 hours and the trains were often late. As I have said we had the option of returning on any train after the match, the last one was 11.30pm and that was the favourite. It always seemed like a great idea when you were having a few beers in Newcastle, perhaps followed by a curry. It did not seem such a good idea when you were trying to get some sleep on the journey back. The trains in those days were the corridor type and the trick was to find a carriage where two of you could stretch out. Sleeping was always difficult, the trains always seemed to be stiflingly hot or freezing cold. Just when you did manage to drop off a sadistic ticket inspector would slam the door open, switch on the light and bellow at the top of his voice "all tickets please". It seemed even less of a good idea when you arrived at Kings Cross at 5am on a Sunday morning before the tube had opened.
Finally, for those of you who have been bored reading about people you have never heard of, here is a story about myself. The trip to Anderlecht for the 1969-70 Fairs Cup Quarter Final was a particularly boozy affair. The return boat trip was a real "booze cruise" with all of our party having a drop too much. We were all on deck with the other passengers as the boat was docking at Dover when it bumped into the moorings. I staggered and fell over. A woman passenger turned and said "Disgraceful! My four year old grandson doesn't stagger about like that". I replied, so I am told, "Yes but your grandson doesn't get pissed does he?"
©2008 Tony Rodgers